Product Info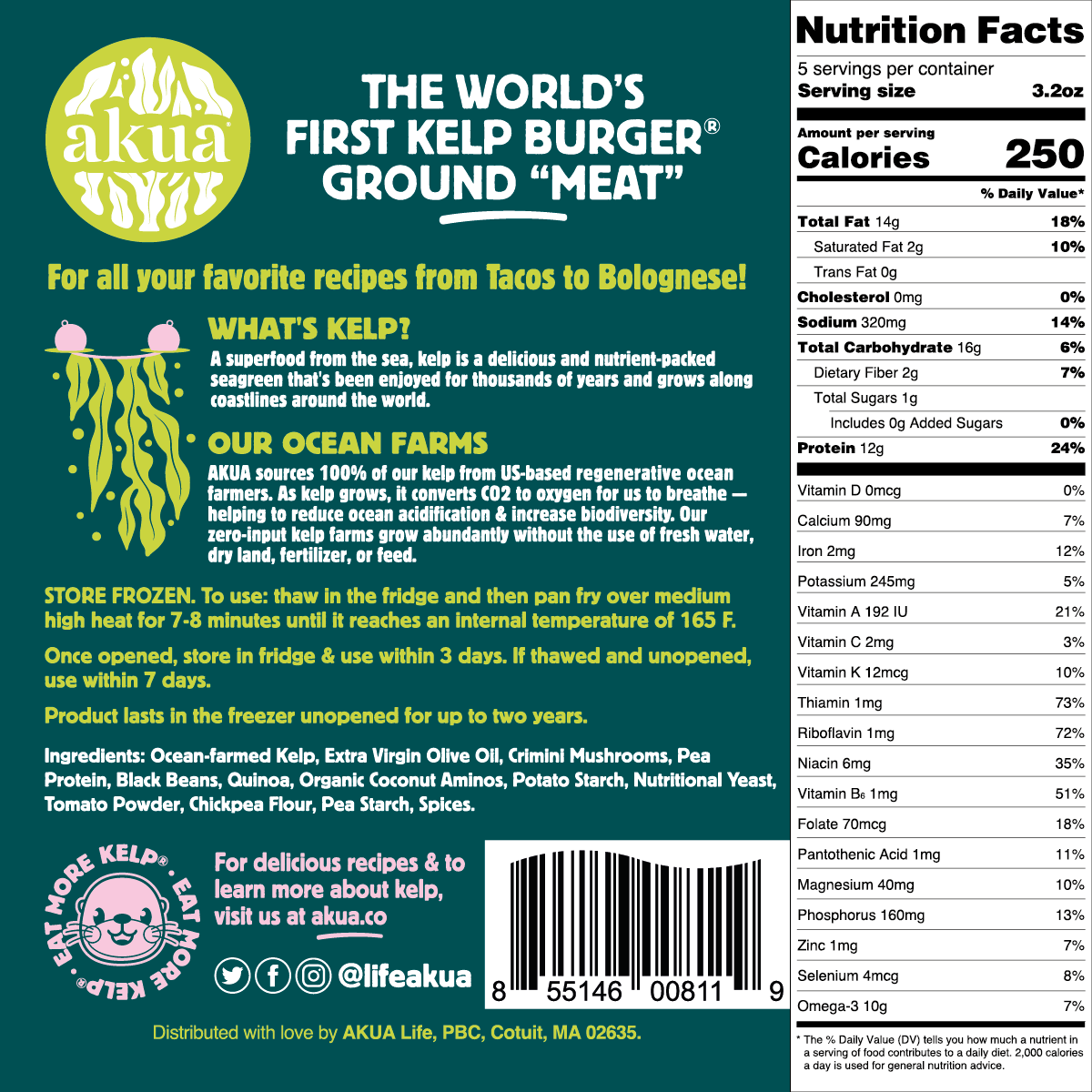 AKUA's Kelp Burger Ground Meat is packed with toasty, umami flavor and rich notes of fresh tomatoes and mushrooms! It does not taste fishy. 😋
We love dreaming up new creations with our Kelp Burger meat from Kelp Bolognese to Kelp Falafels. If you want to make standard Kelp Burger patties from this pack, form the "meat" into patty shape and refreeze before cooking in a pan or on the grill.
Ships free via 2-day ground shipping. $19.99 for overnight/expedited.
STORE FROZEN.
To use: thaw in the fridge and then pan fry over medium high heat for 7-8 minutes until it reaches an internal temperature of 165 F.
Once opened, store in fridge & use within 3 days. If thawed and unopened, use within 7 days.
Product lasts in the freezer unopened for up to two years.
AKUA Ground Meat Bundle
Skip features
Rich in vitamins
Rich in bioavailable vitamins, minerals, fiber, amino acids, phytonutrients, & omega-3s
100% Plant Based
Plant based, vegan, gluten free, soy free & highly nutritious
Protein & fiber
High in protein & fibre, low in calories, low / zero sugar and packed with healthy fats
-
Shop AKUA in-stores!
Our Kelp Burger 2-Packs are available in 5 flavors in over 2,000 stores nationwide!
store locator
Our Kelp Desk is Always Open
Kelp is a large brown macroalgae that grows in cold ocean waters. In the wild, kelp can form giant forests, which provide spectacular homes for hundreds of marine species. There are many different species of kelp including Saccharina latissima - known as Sugar Kelp and its close twin Skinny Kelp, which are the two types of kelp we grow to make our products.
Our kelp comes from pristine waters along the Northeast seaboard from Maine to Rhode Island. All of our kelp is harvested by our network of farmers and it is processed in Portland, ME.
Each state regulates the water that seaweed can be grown in, only allowing aquaculture for commercial use to take place in Approved/Open and Conditionally Approved areas. These areas are classified by water quality, pollution data collection, and a number of other data points. These classifications are based on shellfish standards which are the highest in the aquaculture industry, as the shellfish filter the water and are more susceptible to pollutants.
The entire industry from state regulations to the individual farmers make every attempt to farm responsibly in areas that are free from known contaminants.
Yes, all of our products are 100% gluten-free.
Yes, all of our products are 100% vegan.
We add very little salt to our recipes and the majority of the sodium is naturally occurring from the kelp soaking up all the nutrients in the ocean water for the 6 months it's planted.
If you're trying to watch your sodium, please ask your doctor about if seaweeds with naturally occurring ocean salts are an exception!
We include nine-month "best by dates" on our Kelp Jerky because this is when Kelp Jerky starts to lose its optimal flavor. This is also subject to how Kelp Jerky is stored. We recommend storing Kelp Jerky at room temperature in an air-tight container. Storing Kelp Jerky in the fridge will dull the flavors until it's been properly thawed to room temperature.
It is very hard for a dehydrated snack like Kelp Jerky to "go bad". Our best by dates are really about optimal flavor.