Product Info
Ingredients: Kelp, Filtered Water, Shiitake Mushrooms, Organic Coconut Aminos, Apricot, Organic Apple Cider Vinegar, Extra Virgin Olive Oil, Pea Protein, Nutritional Yeast, Chickpea Flour, Kosher Salt, Lemon Juice, Black Pepper, Ginger, Garlic, Onion, Hickory Smoke, Goji Berry
Nutrition Facts
4 serving per container
Serving size: 1 bag (43g)
Amount per serving: Calories 160


% Daily Value*
Total Fat 8g
12%
Saturated Fat 2g
5%
Trans Fat 0g
0%
Cholesterol 0mg
0%
Sodium 500mg
21%
Total Carbohydrate 18g
7%
Dietary Fiber 10g
40%
Total Sugars 4g


Includes 0g Added Sugars
0%
Protein 10g


Vitamin D 7mcg
35%
Calcium 142mg
11%
Iron 12mg
67%
Potassium 700mg
15%
Vitamin A 242mcg
27%
Vitamin E 0.5mg
3%
Thiamine 1mg
80%
Riboflavin 2mg
150%
Magnesium 100mg
24%
Zinc 2mg
18%
*The % Daily Value (DV) tells you how much a nutrient in a serving of food contributes to a daily diet. 2,000 Calories a day is used for general nutrition advice.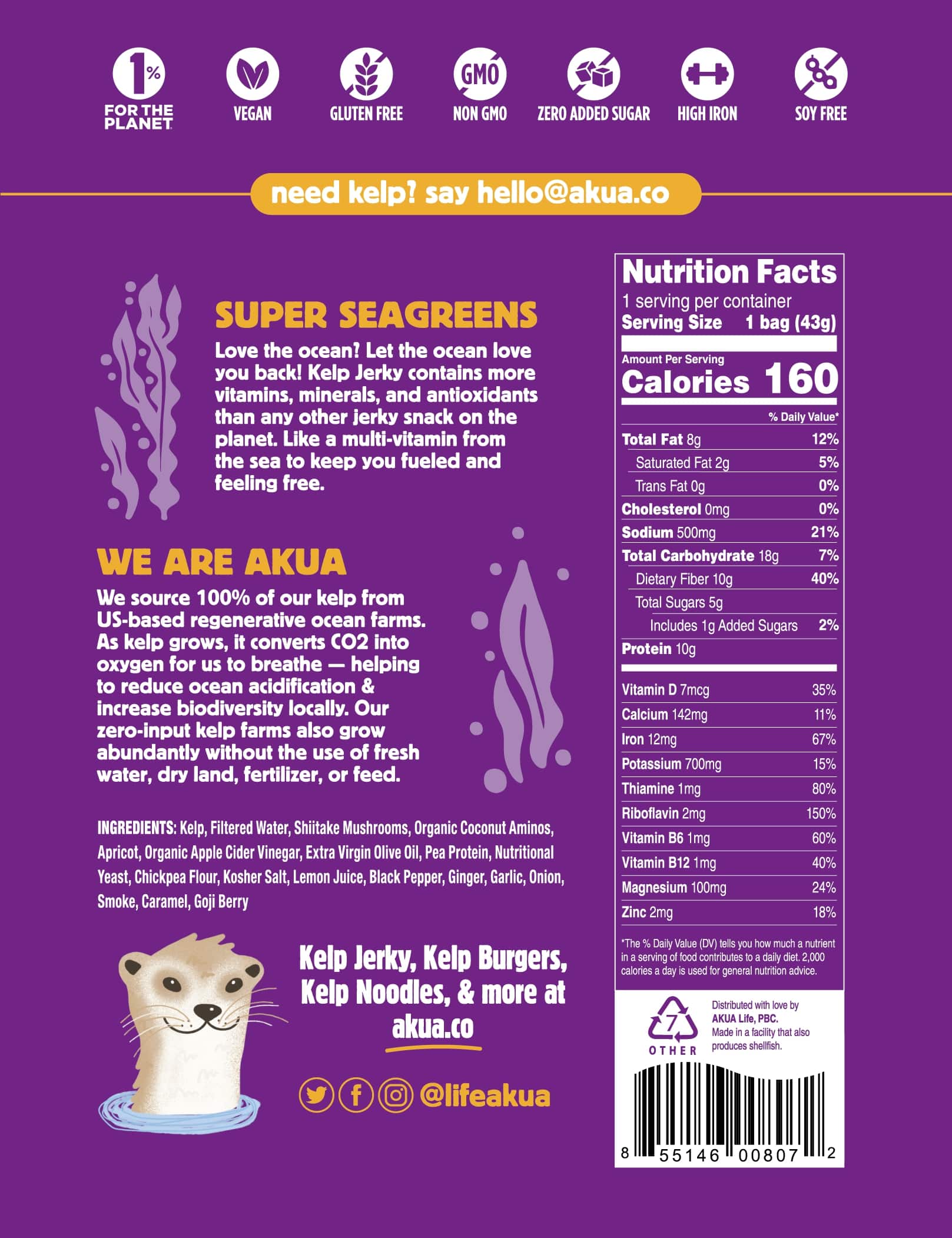 Hibachi Teriayki Kelp Jerky has a smoky and sweet flavor with Teriyaki seasonings and a hint of superfood Goji berries. Unlike most meat jerky, Kelp Jerky is soft and chewy.
Kelp Jerky ships for free within 5-7 business days via USPS.
Consuming this product can expose you to chemicals including lead, which is known to the State of California to cause cancer and birth defects or other reproductive harm. For more information go to www.P65Warnings.ca.gov/food.
Hibachi Teriyaki 💜💜💜
Skip features
Rich in bioavailable vitamins, minerals, fiber, amino acids, phytonutrients, & omega-3s!
100% plant-based and free of all major allergens, including gluten-free and soy-free
High in protein & fiber with just 160 calories and 1g of added sugar
-
Our Kelp Desk is Always Open
Kelp is a large brown macroalgae that grows in cold ocean waters. In the wild, kelp can form giant forests, which provide spectacular homes for hundreds of marine species. There are many different species of kelp including Saccharina latissima - known as Sugar Kelp and its close twin Skinny Kelp, which are the two types of kelp we grow to make our products.
Yes, all of our products are 100% gluten-free.
Yes, all of our products are 100% vegan.
We add very little salt to our recipes and the majority of the sodium is naturally occurring from the kelp soaking up all the nutrients in the ocean water for the 6 months it's planted.
If you're trying to watch your sodium, please ask your doctor about if seaweeds with naturally occurring ocean salts are an exception!
Get 10% off your first order!
And receive emails about secret product launches, sales, and more!