Product Info
Ingredients: Kelp, Organic Extra Virgin Olive Oil, Crimini Mushrooms, Pea Protein, Black Beans, Quinoa, Organic Coconut Aminos (Organic Coconut Nectar, Organic Pure Coconut Blossom Sap, Natural Unrefined Sea Salt), Potato Starch, Nutritional Yeast, Tomato Powder, Chickpea Flour, Pea Starch, Spices, Konjac, Agar
Nutrition Facts
5 serving per container
Serving size: 3.02oz
Amount per serving: Calories 250


% Daily Value*
Total Fat 14g
18%
Saturated Fat 2g
10%
Trans Fat 0g


Cholesterol 0mg
0%
Sodium 320mg
14%
Total Carbohydrate 16g
6%
Dietary Fiber 2g
7%
Total Sugars 1g


Includes 0g Added Sugars
0%
Protein 12g
24%
Vitamin D 0mcg
0%
Calcium 90mg
7%
Iron 2mg
12%
Potassium 245mg
5%
Vitamin A 192 IU
21%
Vitamin C 2mg
3%
Vitamin K 12mg
10%
Thiamine 1mg
73%
Riboflavin 1mg
72%
Niacin 6mg
35%
Vitamin B6 1mg
51%
Folate 70mcg
18%
Panthonthenic Acid 1mg
11%
Magnesium 40mg
10%
Phosphorus 160mg
13%
Zinc 1mg
7%
Selenium 4mcg
8%
Omega-3 10g
7%
*The % Daily Value (DV) tells you how much a nutrient in a serving of food contributes to a daily diet. 2,000 Calories a day is used for general nutrition advice.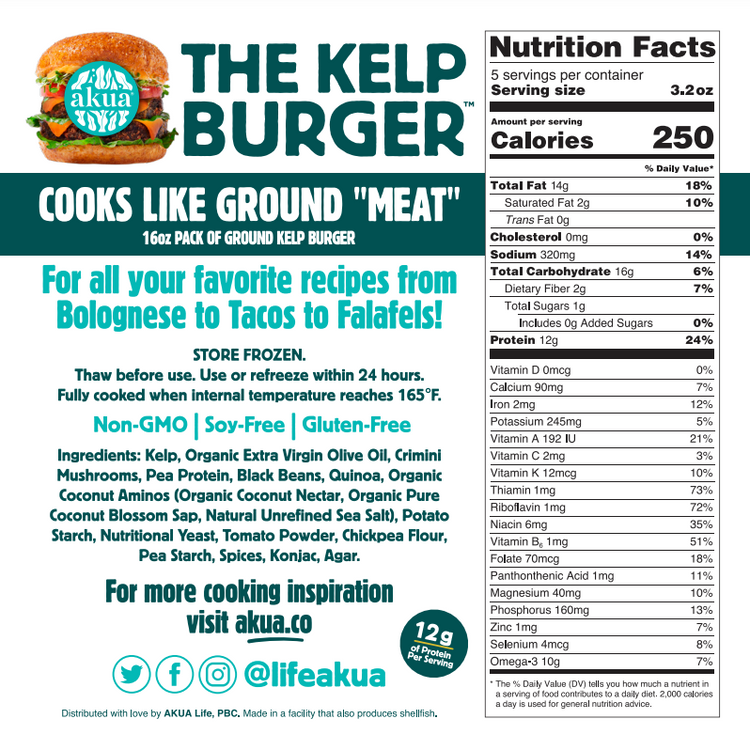 The Kelp Burger and our Ground Meat is packed with toasty, umami flavor and rich notes of fresh tomatoes and mushrooms! It does not taste fishy. 😋
When ready to eat, remove the Kelp Burgers from the freezer.
Place 1-2 Kelp Burgers onto a hot pan with an oil of your choice & cook over medium high heat for 3-4 minutes 'til you hear the sizzle!
Flip & cook the Kelp Burgers for an additional 3-4 minutes so both sides are slightly crispy & the KB gets hot all the way through.
Enjoy on their own or wrapped up in your choice of bun/lettuce & fixings! (We love spicy vegan mayo, vegan cheese, lettuce & avocado on a delicious bun, hun!)
We ship Kelp Burger Bundles and other frozen products weekly on Wednesdays, and your package will arrive in 24-48 hours with dry ice. Place your Kelp Burgers in the freezer upon arrival.
Consuming this product can expose you to chemicals including lead, which is known to the State of California to cause cancer and birth defects or other reproductive harm. For more information go to www.P65Warnings.ca.gov/food.
The Kelp Burger Bundle
Skip features
Rich in bioavailable vitamins, minerals, fiber, amino acids, phytonutrients, & omega-3s
Plant based, vegan, gluten free, soy free & highly nutritious
High in protein & fibre, low in calories, low / zero sugar and packed with healthy fats
-
Skip product slider
On back order
Pre-order
16oz packs of ground Kelp Burger "meat"
On back order
Pre-order
Our Kelp Desk is Always Open
Kelp is a large brown macroalgae that grows in cold ocean waters. In the wild, kelp can form giant forests, which provide spectacular homes for hundreds of marine species. There are many different species of kelp including Saccharina latissima - known as Sugar Kelp and its close twin Skinny Kelp, which are the two types of kelp we grow to make our products.
Yes, all of our products are 100% gluten-free.
Yes, all of our products are 100% vegan.
We add very little salt to our recipes and the majority of the sodium is naturally occurring from the kelp soaking up all the nutrients in the ocean water for the 6 months it's planted.
If you're trying to watch your sodium, please ask your doctor if seaweeds with naturally occurring ocean salts are an exception!